Get ready to write your best proposals ever!
A customer asks a question—you give them an answer; but how effective are the responses you write?
For both new and seasoned RFP responders, this recorded webinar provides:
Tips to avoid early elimination by RFP reviewers
Recommendations for persuasive title page, cover letter, and executive summary
An effective strategy for answering RFP questions—Acknowledge-Persuade-Substantiate (APS)
Compliance matrix tips to emphasize your strengths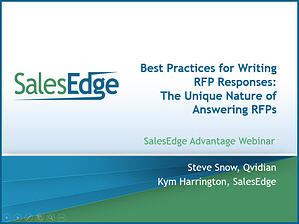 Recording Length: 53 minutes

The SalesEdge Advantage Webinars are a series of monthly webinars designed to help you get more out of your RFP and proposal automation technology and be more successful at helping your organization win more business.

Want to achieve greater results? Connect with the SalesEdge team:
Sales: 888.577.7382 ext. 701
Customer Care: 888.577.7382 ext. 702.