First Impressions Make a Difference…
And your proposal cover letters and executive summaries create those first impressions!
In this recorded webinar, we help you understand how you can create compelling "front matter" that resonates with evaluators and high-level decision makers.
For both new and seasoned RFP responders, Qvidian's Steve Snow shows you how to write:
Effective cover letters that capture your customer's attention with the right organization, content, and tone
Executive summaries that resonate with your customer's key decision makers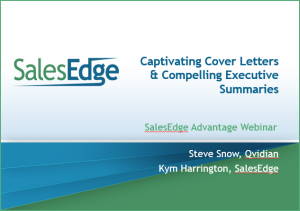 Recording Length: 60 minutes
The SalesEdge Advantage Webinars are a series of monthly webinars designed to help you get more out of your RFP and proposal automation technology and be more successful at helping your organization win more business.

Want to achieve greater results? Connect with the SalesEdge team:
Sales: 888.577.7382 ext. 701
Customer Care: 888.577.7382 ext. 702.